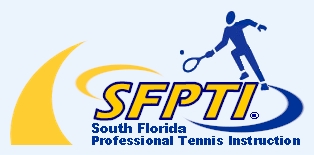 WORLD CLASS TENNIS PROGRAM
Part Three - Performance Tennis
Instructor and Program Author: Andrew S. Rosz
***
Part Three of the World Class Tennis Program on Performance tennis consists of eight individual topics... one is topic presented during each lesson.
| | |
| --- | --- |
| 1. | EXERCISE DRILLS |
| 2. | OFFENSIVE PLAY |
| 3. | DEFENSIVE PLAY |
| 4. | SINGLES STRATEGY |
| 5. | DOUBLES STRATEGY |
| 6. | PERCENTAGE TENNIS |
| 7. | CLAY COURTS VS HARD COURTS |
| 8. | THE FIVE C'S OF WINNING TENNIS |
Each of these topics is discussed in great detail in a context appropriate for the player's level and ability. As all tennis players indeed "play differently" to some extent, Part Three of the World Class Tennis Program is specifically tailored to the performance needs and capabilities of each individual student to help him (or her) play the best tennis possible in competitive situations.
Note: World Class Tennis Program Part Three - Performance Tennis is also available as a Tennis Instruction Training Manual book publication; expertly-written in manuscript-form for players unable to attend the 8-week course in person, or for players who simply prefer to be "self-taught." For more information on the complete set of WCTP Training Manuals CLICK HERE.
In the World Class Tennis Program Tennis Instruction Training Manual Part Three - Performance Tennis, advanced concepts of strategy and competition are discussed in detail. Also in Part Three, the student will learn to make appropriate decisions in a variety of competitive situations as concepts of "knowing what to do when..." are thoroughly explained. Offensive and defensive styles are also discussed together with competitive strategies for both singles and doubles. In comparison, the Part One and Part Two WCTP tennis instruction training manuals help the student to develop advanced tennis skills. The Part Three training manual teaches the student how and when to use those skills in obtaining the ultimate competitive advantage; the ability to perform under pressure. Price $80 (U.S.) CLICK HERE TO ORDER!